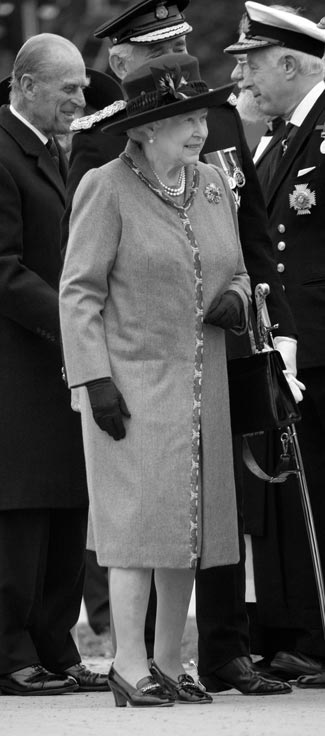 H.M. Queen Elizabeth II
attending the opening of the Armed Forces Memorial
It was at this point Rank-Broadley conceived the idea of the eternal doors of Paradise through which the soldier would be carried to a better world, or to Paradise. A lone soldier points to the Great Doors of Eternity as they stand ajar. On the other side the soldier will resume his short-lived life in Paradise. The Doors of Eternity standing ajar allowed the architect Liam O'Connor the opportunity of creating a unique feature: allowing the sun's rays of the eleventh hour of the eleventh day of the eleventh month to strike the central wreath. Meanwhile, standing on the ammunition box, the mason records the passing of the soldier by cutting the inscription on the wall and this integrates the sculpture into the monument.
These two groups of sculptures, conceived specifically for the Armed Forces Memorial, use sculpture as theatre to engage the spectator in the drama.
Review by Martin Jennings FRBS Sculptor, 2008
"The groups work not only in formal terms – they succeed in the immensely difficult task of assembling figures in apt aesthetic tableaux – but also in terms of the very subtle and challenging task of presenting death for what it is while refusing to succumb to despair at war's horrors... The individual figures are modelled with a remarkable verve and a supreme knowledge of human form and its sculptural expression. They are beautifully integrated into the surrounding stonework through various conceits – one figure gesturing to the doorway, another carving the lettering etc. - and the slightly larger-than-lifesize scale gives a monumental feeling to the works without allowing it to become grandiose"
Review by Julie Summers Historian & Biographer, 2008
"The sculptures are also deeply moving. Beautifully observed and understated in their gestures they have something of the colossal power of the CS Jagger sculptures on the memorial at Hyde Park corner. It is hard to look at them in detail without a lump rising in one's throat and yet they are anything but sentimental, which is a considerable achievement."
<< Previous